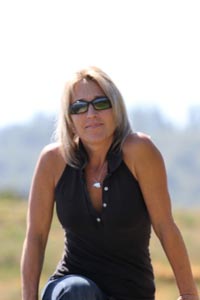 Kyra Shelgren
Executive Producer / Advisory Board Member
Kyra Shelgren is a talented and accomplished Producer & Executive Producer in cinema, television, commercials, and music videos. She has produced and supported some of the top Directors, actors and musicians, and has shot in some of the most exotic and technically challenging locations around the world.
Just to name a few... Kyra has worked with Directors - Ridley Scott, Oliver Stone ...Actors -Kirk Douglas, Bill Cosby, Demi Moore ... Top Models – Paulina Porizkova, Christie Brinkley, ...Sports icons – Michael Jordan, Shaquille O'Neal, Kobe Bryant, Joanie Benoit ...and Musicians – The Rolling Stones, Aerosmith, U2, Phil Collins, Sheryl Crow, Stevie Nicks, Madonna ...Locations – United Arab Emirates, USS Kennedy Aircraft Carrier, a Selenium mine a mile into the depths of the earth, and filming on the most beautiful beaches of the world. Along with those jobs came crew members' praise and boasts "there was nothing they would not do for her in production."
Kyra joined the film community by happenstance. Her career as an accomplished artist/sculptor in the North East detoured when a production company from NYC came to Maine to shoot Joanie Benoit prior to the 1984 Olympics. She was asked to help, not only to 'stand in' and 'run' for Joanie, but to assist with all of their production needs.
From Maine she went straight to New York City, exchanging her calm rural life for the culture shock of living in a 4 story walk-up in The Village, producing her sculpture and gallery events alongside her then-husband, an Executive Producer with the one of the most high-profile production companies on the East Coast, doing commercials and television series such as Miami Vice. Kyra gravitated to working in production, from creative, to bidding, to working the set from the bottom up, Kyra advanced from Production Assistant to Producer in just two years. Her first director, Peter Kagan (of Higher Love for Steve Winwood fame), catapulted his career and hers into back to back productions for the next 5 years, along with moving from NYC to LA.
Once in LA, Kyra was given the opportunity to produce for renowned director Ridley Scott. Her talents impressed Ridley so much he insisted Kyra produce all of his productions within the US and she later was brought onto his movies – White Squall and GI Jane.
With other directors calling for her expertise and knowledge, she consistently books back to back productions, commercials, movies, and television. Her knowledge of Production, from explosions to union rules, to entertainment law, keep Kyra an essential asset for any production.
Kyra advises on Book Your Crew and brings to the team her own extensive experience in high-level production management, efficiency testing, and troubleshooting.